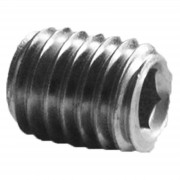 Stud Blanks
Stud blanks are used as placeholders if you want to temporarily use a threaded horseshoe without studs - e. g. if your horse is living in a group. Stud blanks protect the screw threads from getting dirty or damaged and you can easily reapply studs if necessary.
further information (flyer)
For purchases of more than 100 stud blanks, there is a price reduction available.