Duplo Jumper
The Duplo Jumper has been developed after numerous requests from show jumpers. Quick changes of direction on possibly slippery ground require a very solid horseshoe which can be used with two or four removable studs and which is as shock-absorbing as possible during the course.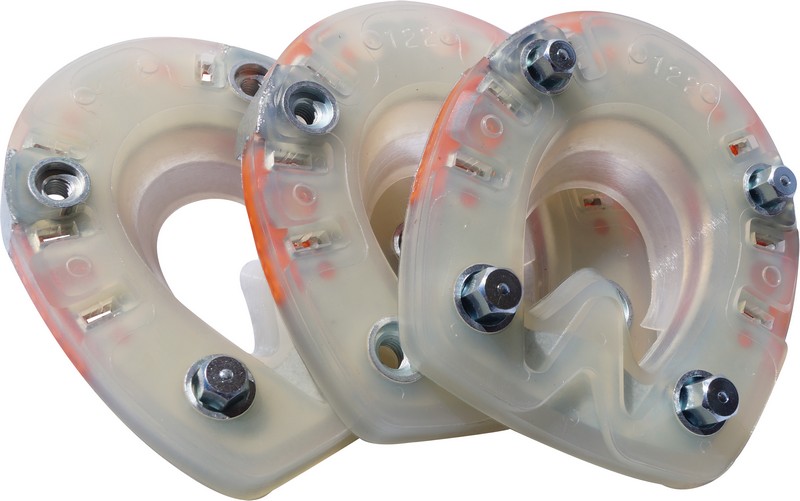 Construction
In contrast to regular Duplo horseshoes, the metal inlay of the Jumper is closed around the heel area of the horseshoe. The stud threads are not only fixated in the synthetic material as usual, they are firmly connected with the metal inlay. That's why it is possible to use larger studs in the heel area without risking that the threads get levered out of their correct and solid position during extreme strain.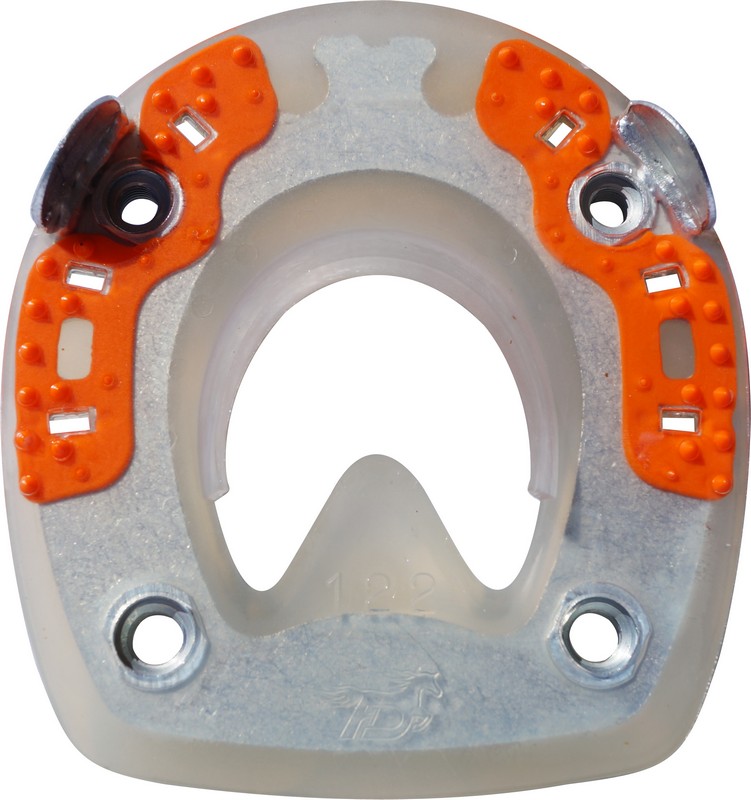 Application of Four Studs
The Duplo Jumper is equipped with four solid screw threads in which you can insert screw studs if necessary. Contrary to the regular Duplo models, you can use higher studs (8 mm and 12 mm) without affecting the stability of the horseshoe.
However, the size of the threads varies with the size of the horseshoe. The small horseshoes have M8 threads in the toe area and M10 threads in the heel area; the large horseshoes have four M10 threads. Please be careful to choose the correct stud size!

| Size | round | oval |
| --- | --- | --- |
| 118 mm | M8 / M10 | M8 / M10 |
| 122 mm | M8 / M10 | M8 / M10 |
| 126 mm | M8 / M10 | M8 / M10 |
| 130 mm | M8 / M10 | M8 / M10 |
| 134 mm | M8 / M10 | M8 / M10 |
| 138 mm | M8 / M10 | M8 / M10 |
| 142 mm | M10 / M10 | M10 / M10 |
| 146 mm | M10 / M10 | M10 / M10 |
| 150 mm | M10 / M10 | M10 / M10 |
| 154 mm | M10 / M10 | M10 / M10 |
| 158 mm | M10 / M10 | M10 / M10 |
| 162 mm | M10 / M10 | M10 / M10 |
| 166 mm | M10 / M10 | M10 / M10 |
| 170 mm | M10 / M10 | |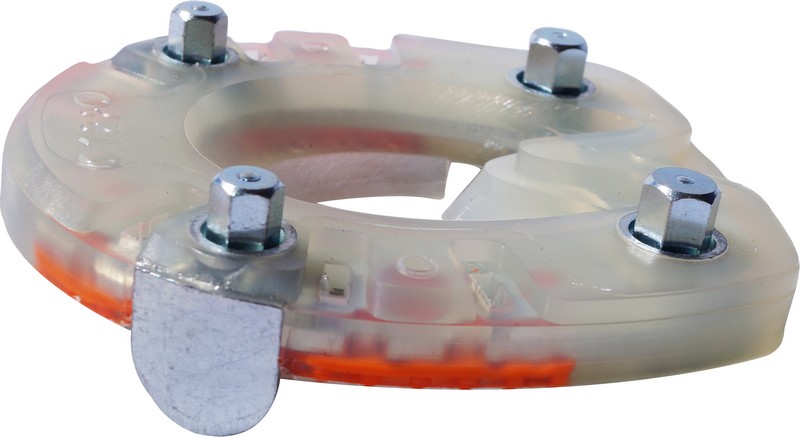 Even Pressure Distribution
All four screw threads are firmly fixed within the metal inlay. Thanks to this construction, the hoof is not pressurized punctually by the studs; their pressure is instead evenly spread on the complete surface of the hoof wall.
Large Supportive Surface
The contact surface between horseshoe and hoof wall is very large. The V-shaped inlay supports and protects the complete frog. The Duplo Jumper does not only stimulate a healthy hoof but also provides for a very comfortable feeling.
Shock Absorbance
The complete metal inlay is covered by a synthetic coat. Compared to a non-padded regular horseshoe, the Duplo Jumper is extremely shock-absorbing.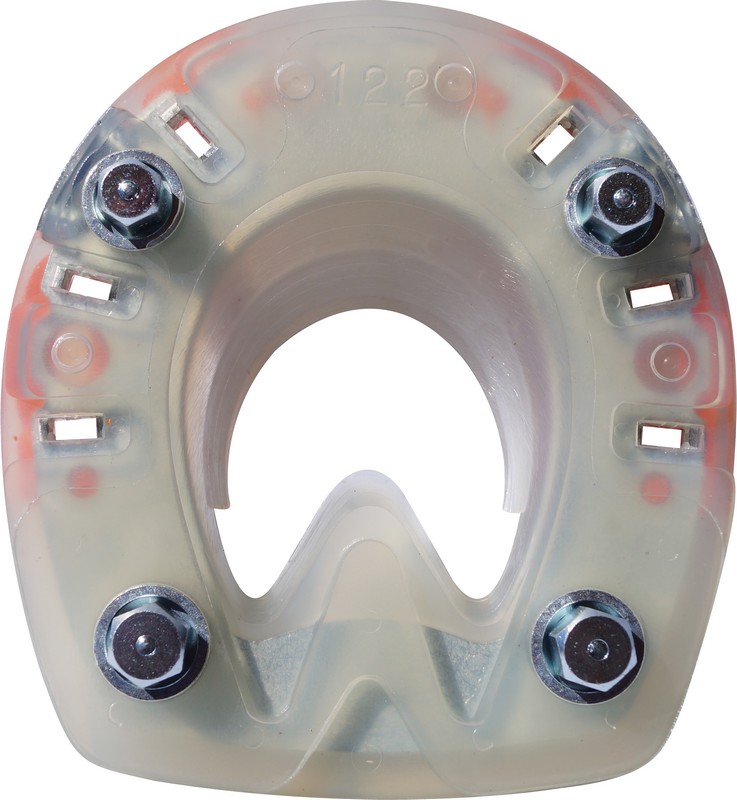 Weight Reduction
The Duplo Jumper is less heavy than a heart-bar metal horseshoe of the same size and therefore takes away weight from the locomotor system.
Modifications
Thanks to the synthetic overlap all around the horseshoe, you can use an angle grinder to adjust the Duplo Jumper precisely to the individual hoof shape. It is also very easy to add more profile to the bottom side of the horseshoe without increasing the risk of injuries for the horse.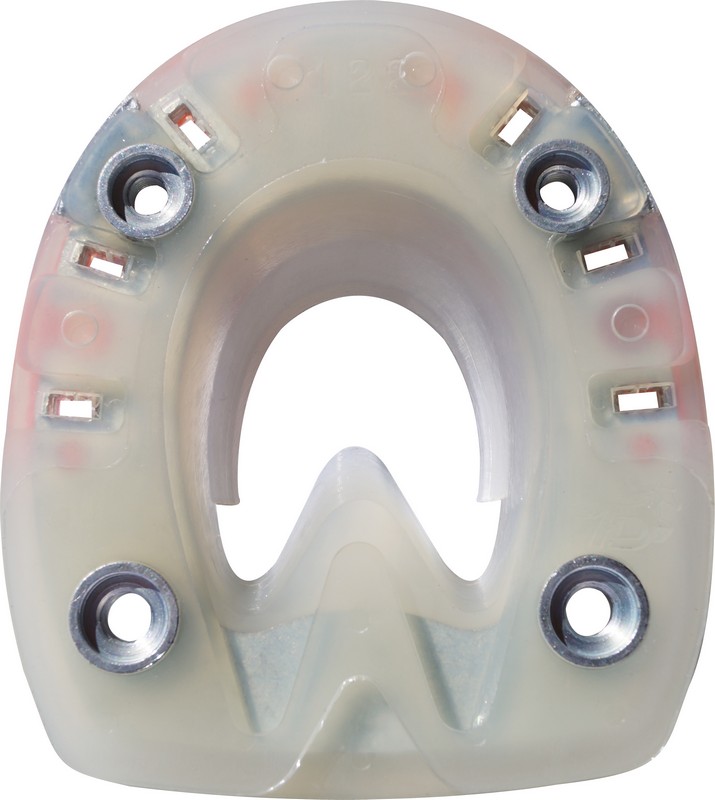 Latest Update: 2021-04-01