product description
Plastic-welding glue-on tabs or extensions to Duplo Horseshoes isn't that complicated; however, for a solid and robust result, you still need a certain practice. In order for you to achieve this routine and so you don't have to use real Duplo Horseshoes for your first attempts, here's a low-cost practice kit with Duplo dummies.
Contents:
• 8 Duplo dummies (random assortment of different sizes and shapes)
• 8 Duplo glue-on tabs "Easy" with regular surface
Please note: The Duplo dummies are not suitable as hoof protection!
Why are the dummies so cheap?
We regularly rebuild our machines when another Duplo model or another size is to be produced. During the first runs, we produce "dummy horseshoes" without metal inlay so we can check the settings. Usually, we regranulate these dummies and reuse the material; however, we have noted that they are also ideal as practice material for plastic-welding.
Take a look at our glueing instruction for further information about plastic-welding: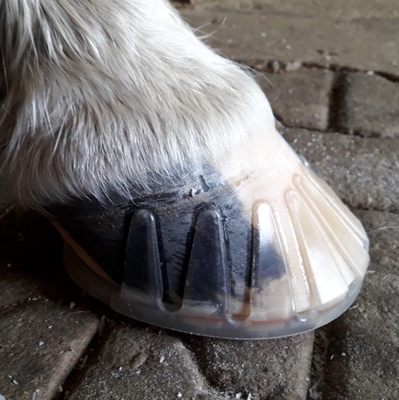 Glueing Instruction
This might also be of interest to you: